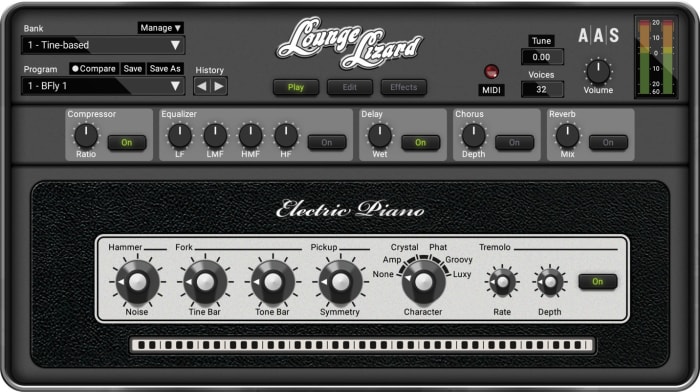 Authentic tone, behavior and feel. Lounge Lizard EP-4 is an electric piano plug-in that reproduces the authentic sounds of Rhodes and Wurlitzer. Compressor and Equalizer: These new additions are perfect for adding punch and definition to your sound, allowing you to cut through any tight mix. Character Knob : This new control provides five classic emulations, including Cabinet, Preamp, Mic, Recorder, that easily fit the piano into your track. Optimized interface : A redesigned new interface now divides the Lounge Lizard EP-4 into three panels: the Play panel presents shortcuts to performance and effect parameters, including bypass switches for quick editing; the Edit panel allows you to customize and create your own sound; The FX panel contains EQ, compressor, multi-effect and reverbs for a final shine. Limiter: New output limiter protects your ears and monitors while experimenting with synthesizer parameters, ensuring maximum dynamics without distortion. Bank and Program Manager : The new manager allows you to easily and efficiently organize, back up and share your sounds. Changed Effects : The updated and polished Lounge Lizard EP-4 multi-effects processor features the best chorus, delay, phaser, flanger, distortion, filter, wah-wah, auto-wah and reverb sound to date! Microtonic Tuning : String Studio now supports the Scala file format for creating microtonic music. Library: Over 240 inspiring presets with Rhodes and Wurlitzer sounds, as well as regular electric pianos, classic sounds and experimental sounds. Performance : Direct access to key effects and piano parameters to perfectly match the tone of your performance. Play your piano through the various cabinets, preamp, microphone, and recorder commonly used with electric pianos. Editing : Lounge Lizard is based on modeling real piano components. A custom piano can be created with just a few manipulations, which would take a lot of painstaking work with real instruments. The factory library is filled with meticulously designed pianos. Find that elusive tone: Electric piano aficionados seem to fall into two camps: Rhodes or Wurlies. Whatever the preference, both instruments have been used and popularized in thousands of songs by legendary musicians. With its vast library of custom tunes and its authentic feel, Lounge Lizard will provide you with a truly inspiring electric piano. Custom Tone : All famous players had their own signature sound. This was achieved through the tedious manual tuning of forks, hammers and pickups. Whether you want to emulate a specific sound, or just find your own, you have direct access to all of the piano's components. Hammers: Control the attack of the hammers. Adjust the force of the impact, its hardness and the noise it makes. Modulate them over the entire keyboard range or depending on the MIDI velocity. Out of the box : The trick is to use vintage combinations of effects or tune the piano parameters to extreme values. The Lounge Lizard can really go wild. It retains the reproducibility of the instrument, but can sound beyond what you've heard from an electric piano before.
Applied Acoustics Systems - Lounge Lizard EP-4 4.2.5 VSTi, VSTi3, AU WIN.OSX x86 x64
Re-download
Direct URL
File Size 91 MB
Zip Password: 123
How to download and install :
2 - Disable Windows Defender
Turn off the firewall in Windows so that no crack files are deleted after decompression
To decompress the file, you need some simple steps. First download the Winrar program if it is not already on your device, and then you can follow the steps through this article.
4 - installation
Open the installation folder after decompressing and click on the installation file.